Before I begin, run to your nearest Trader Joe's and pick up the pear cinnamon cider! So. flippin. fantastic.
Thanksgiving is most definitely my favorite eatin' day of the year. It's always a recipe for disaster when your entire family gets together, but the food is good (and the booze is even better). I usually start planning as early as September, trying to narrow down the menu. This year is different because I'm really trying to find the perfect recipes to keep as regulars. We never have the same menu every year and things would be simpler if I kept some staples and maybe had one rotating dish a year.
I've been trying to figure out the main dish since last month. We actually bought a
Vegetarian Plus vegan turkey
, but I had (and still have) extreme doubts. Era thought it would be a good idea to have one less major thing to worry about, so he bought it anyway. As far as mains go, I've already made the Festivus Loaf and Seitan En Croute from
500 Vegan Recipes
. Right now, the Seitan En Croute is winning as an alternate to what we already have. I took this picture when my camera broke so it's not the best:
I still need to make Bryanna's soy and seitan turkey to see if that's what I'm going with. My sides are pretty set. I'm just trying to find the best version of them Tonight I made some mac and cheeze, collard and sausage stuffing, baked tofu, and cashew gravy.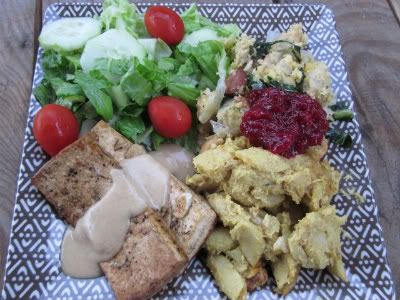 The mac and cheeze was good, but I'm probably just making
Jess' adaptation
of the New Farm recipe. The
stuffing
was a ridiculous thing on my part because I was never a fan of meatiness in stuffing. This called for andouille, but I used the sausage I had on hand (Yves Italian). The collards and sausage took away from the "cornbreadiness", which is my absolute favorite part about stuffing.
closer look at stuffing
The baked tofu is just something I threw together. I marinated extra firm tofu in fresh squeezed orange juice, soy sauce, olive oil, poultry seasoning, thyme, and slivered garlic. The
cashew gravy was from Megetarian
, and that ish is the jam! It's seriously good and frickin' easy. Totally added to my menu. I might throw some mushrooms or thyme in there, but it was delicious as is.
Thanksgiving at our house is a meal with huge variety and it's usually filled with soul food. Growing up the sides were cornbread, mac and cheese, pinto beans, collard greens, cornbread stuffing, canned jellied (brrr) cranberry sauce, and dinner rolls. Maybe some other stuff that I can't or don't want to remember. This year I'm going back to that sorta...except I always needed green salad and tons of color. Also, I cook entirely too much food because I have to have variety. At least there are guaranteed leftovers.
The Tentative Menu
Appetizers
deviled tofu
pickle and olive tray
Main
cornbread stuffing
mashed potatoes
collard greens
(adding garlic and veg broth to this)
sweet potatoes
maque choux
(w/
Viva Vegan
chorizo)
mac and cheese
pea salad (maybe)
green salad
cashew gravy
cranberry sauce from
Vcon
(w/ orange juice/zest and brown sugar)
Dessert
Pumpkin Cheesecake
After tonight and the two slices of meat cake last week, I'm almost Thanksgivinged out. I'm gonna freeze all of tonight's leftovers so if I get a hankering for stuffing in March it's there.
What about you? Have you finalized your menu yet?
P.S.-Thanks for all the great words yesterday. Y'all made me smile when I was having a bad day.
P.P.S-Smackers and I baked a mini gay cake. I'll be sure to post it later this week.
P.P.P.S.-I forgot to say that I won a giveaway! I'm getting
Vegan Unplugged
! Thanks again to
Robin Robertson
!