Because it's not snowing in Texas right now, I wanted something that reminds me of pink snow covered landscapes. If you've never had a Sno Ball before, I feel sorry for you a bit. It is the ultimate in disgusting junk food enjoyment.
Last month, I bit into a toasted coconut
Sweet and Sara
marshmallow. It was at that moment that I wondered why those lovely people haven't made a vegan version of Sno Balls already. Seriously. Their s'mores are basically moonpies...and that is a sweet, delicious miracle in its own right. If you have control of Sweet & Sara and happen to be reading this: banana! That is all. Banana moonpies were THE best.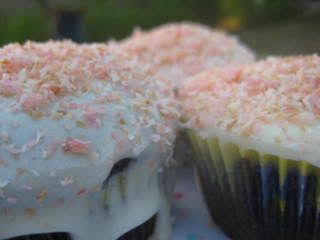 This recipe was the Frankenstein's monster of desserts. Take Fauxstess Cupcakes, subtract the ganache and squigglies, add ricemellow creme, coconut extract and toasted coconut (dyed pink) and you got it, dude!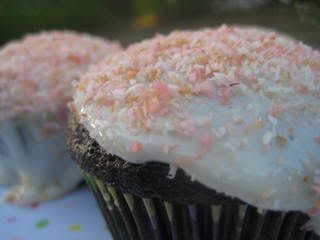 Next time I want to try
My Sweet Vegan
's ricemellow creme frosting because using the creme itself results in sticky, gooey insanity. I also wonder what melting a bunch of toasted coconut marshmallows would result in. And instead of using food coloring, I used maraschino cherry juice. What else was I gonna do with it?