Check it: I got my PPK swap package yesterday. My partner was the lovely Brandi aka gear_shifter.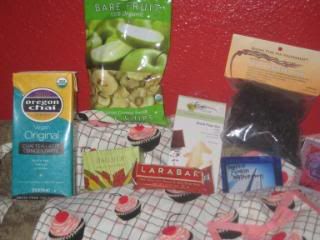 Included in the package: a gorgeous cupcake apron, chai tea, pacific red ginger soap, apple chips, chocolate mole Lara bar, Black Pearl chocolate bar (dark chocolate, ginger, wasabi and black sesame)...
Also...sea vegetables, handmade magnets, udon soup and teriyaki sauce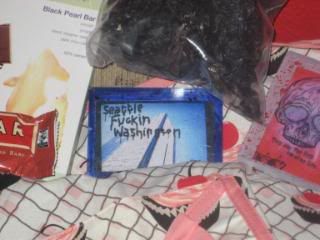 "seattle fucking washington" magnet
"the best day of my life" magnet
Well today is dedicated to the broke ass college student staple: ramen. I thrived off ramen when I first became vegan. Back then, I remember most of the soup bases I found were completely free of animal products. Then those jerk faces changed everything. Chicken fat in everything. Boo. So a couple of months ago, I ordered three packs of vegan ramen from Food Fight. The spicy dragon was my favorite.
I usually top my ramen with sauteed tofu and garlic. Then I coated everything in
cock sauce
. I realize most of you probably call it sriracha, but there's a rooster on it and I'm 12 years old.
Today I fried the tofu and coated it in the teriyaki that Brandi sent me. Super good. Now I feel compelled to buy a case of ramen and reminisce about being 19.