I took the weekend off by accident. Saturday I was helping some friends move and I spent all day in Austin competing in a poetry scrimmage. Yesterday I was recovering from Saturday.
Speaking of recovering, I was fiending for some vegan menudo on Sunday. I couldn't make it to
Green
because I lacked any energy to drive anywhere. I ended up eating beanie weenies. Not nearly as fulfilling.
So I spent this afternoon making menudo. I'm about 95% happy with the recipe. I need to fine tune it before I post it anywhere. I don't know how much salt I put in it at all. Plus canned hominy is not of the greatness.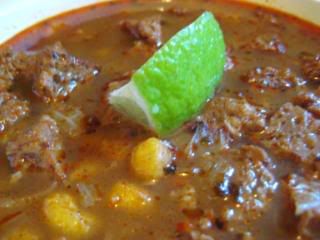 Here it is, sans cilantro because I forgot to get some at the store. It's a little nekkid, but it was pretty damn good. Not too spicy, but it had that nice back of the throat kick