Besides Tex Mex, I'd have to say Italian is my favorite cuisine. It reminds me of being young. Every Friday night when I was little, we'd eat penne pasta and tomato sauce. It was simple, and I'm not even sure if it was intentional. Those were the days. Family dinner and all that.
Nowadays, I don't consume as much pasta as I used to. This is surprising because my husband could eat it all day, everyday. He can cook exactly three things: enchiladas, fideo, and spaghetti. And the portions that man eats are insane. I don't know how he does it.
My husband and I have been living apart for almost a year now. It was only supposed to be a few months but now it's impossible for him to get here and help move our stuff until December. So this entry is really for him. Era, I'm eating pasta puttanesca and wishing you were here.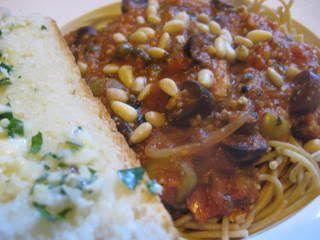 I served this with some garlic bread that I made from the French bread recipe in
La Dolce Vegan
. Topped the pasta with toasted pine nuts...just because. So good.