Today marks the beginning of Food Memories Week. So every year around this time I begin planning our hugest party of the year: Festivus. It started in jest. One year we wanted to have a huge holiday party. About two weeks before the day, we cancelled it in order to have a small wine and cheese gathering. Only, not everybody got the memo. A bunch of friends came over, and we made it work. Festivus was born. Of course, we didn't call it that yet.
I'm a huge
Seinfeld
nerd. My husband bought me the complete series for our second anniversary. It runs deep, people. Anyway. We decided to make Festivus a tradition for a few reasons. I'm atheist. My husband's Catholic. Our friends range from Mormon to Agnostic. Festivus is fun and light hearted. But mostly, I wanted an all inclusive holiday for the season.
Our Festivus parties are always memorable. I have one rule. It is strictly vegetarian. There are exactly two non vegan things I serve: ranch dip and cheese cubes. I have found that omnis are far more receptive if they feel like they have an option.
Last year, to my suprise, a major hit of the party was a cheezeball I threw together. I had originally seen a recipe like this on the internet, but I couldn't find it anywhere when I searched today. So I just made up some stuff. It turned out well! If you do not like using fake cheezy products, I suggest trying
this
recipe or the
cheddar
version. I've tried the original, and it's pretty good.
Spicy Roasted Red Pepper Cheezeball
1 pkg non-hydrogenated Tofutti Better Than Cream Cheese,at room temperature
1 cup shredded vegan cheddar cheese
1/2 Tbsp vegan worcestershire sauce
1/2 tsp garlic powder
1/2 tsp Italian seasoning, crumbled between fingertips
1/4 tsp cayenne pepper
1/2 red bell pepper, roasted and diced
1 cup thinly sliced almonds
Mix all ingredients except the roasted pepper and almonds in a medium bowl. Stir in the roasted pepper. Place bowl in fridge or freezer to firm up a bit (maybe 30 minutes). Take the cheezeball mixture and roll in the almonds. Form into a ball and wrap in plastic wrap. Refrigerate until firm. Serve with crackers, chips or veggies.
And today I felt like discovering unchartered territories. So I have half a recipe for you. Deviled tofu. I will be serving this at my next Festivus. The actual deviled part of this is spot on! I need to work on the tofu part. For now, I'll tell you that I took 28 oz of tofu, pressed them, seasoned them, and baked them. I used nooch, salt, apple cider vinegar and oil. I need to perfect the recipe. Also, I'm fairly certain I only needed one block of tofu.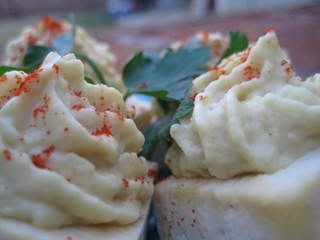 Deviled Tofu
*Note: This is an old recipe. The updated version can be found here*
24 squares of baked tofu
1 15 oz can cannelini beans, drained and rinsed
2 Tbsp Vegenaise
1 Tbsp yellow mustard
black salt (also known as
kala namak
) to taste
1-1 1/2 tsp dill relish, optional
paprika
Mix beans, Vegenaise and mustard in a food processor until smooth. The mix should be creamy. If it still isn't add water (1 Tbsp) at a time. Combine bean mixture and black salt in a small bowl. Taste it before adding the dill relish. You can also add turmeric for more of a yellow color if you want. Refrigerate until needed.
To use, just pipe this onto the tofu squares and sprinkle with paprika. This was really, really good!
Now, if you'll excuse me, I need to practice for feats of strength. Festivus, yes! Bagels, no!