It's banana pudding meets banana cream pie..sorta. This was stoopid good! I discovered some vegan nilla wafers at Dollar General today. They are sweeter and crunchier than the real ones, but they did the job. I super recommend getting a vanilla cookie from Whole Foods or something. It will up the health factor.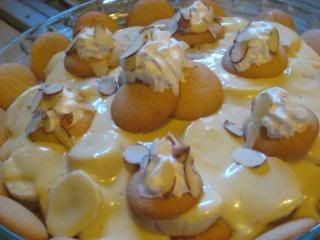 Here's what I did. I took a 3.4 oz thing of Jello instant pudding (banana cream flavored) and mixed it with a 12 oz block of silken tofu and 1/2 cup of soy creamer. Then you layer vanilla wafers, bananas, and pudding. Top with soy whipped cream and sliced almonds. Of course, you can use the healthier organic puddings. Just stick to vanilla or banana puddings.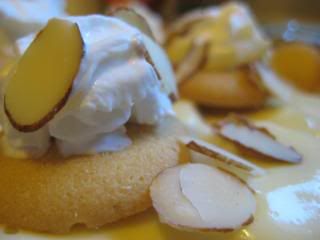 If you aren't eating this right away, then I would definitely spoon everything into individual parfait glasses so you can top with whipped cream right before serving.
And oh happy friggin day. I was finally set to take pictures of my freezer and I discovered that a bag of ice had melted because it isn't freezing properly. I had to throw away A LOT of stuff. But here's what's left...
In no particular order: raspberries, blueberries, strawberries, blackberries, yeast, peanuts, pine nuts, cashews, sunflower seeds, poppy seeds, almonds, hazelnuts, brazil nuts, sesame seeds, raisins, crystallized ginger, cornmeal, shredded coconut, unsweetened chocolate, bag of Sjaak's mini chocolates.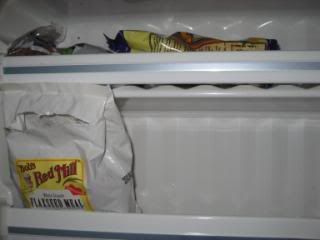 Three kinds of flax seeds. Regular, golden, and ground. Not very interesting. I thrived off of nuts and seeds when I was doing the raw detox. They are very good to have around.
Anyway. Because of my freezer woes, I couldn't make what I really wanted. I promise it will blow your mind. As soon as I get this thing checked out, it will
so
be on!