When it comes to alcohol, I am a vodka girl all the way. I've tried a lot of alcohol in my life. I think most of the time between 18 and 21 was spent drunk or standing over porcelain. I started off with wine coolers and worked my way into liquor. The thing I love about vodka is that it's powerful but the flavor is subtle. Of course, this totally depends on you getting middle to top shelf. Bottom shelf tastes of rubbing alcohol. And seriously...the smell of McCormick makes me gag.
Today, I discovered that Polar Ice makes Huckleberry flavored vodka. I'm drawn to all things purple, so I had to try it.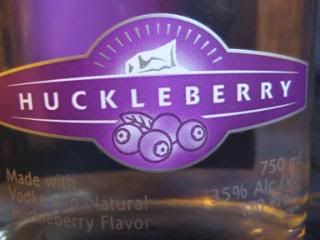 Now vodka isn't vodka without cranberry juice. I am pretty anti soda. I find that cranberry gives me the sweetness I want without being too sweet. I like 100% juice so I got a cran-grape blend.
My drink of choice is a Cape Cod. It's easy to make, not incredibly sweet and really hard to mess up. Bow down to the queen!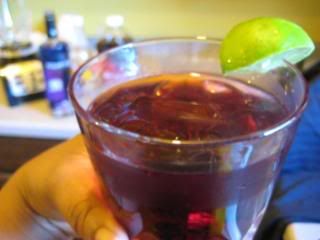 Whenever I want to cut back on sugar or calories, I like a vodka sodas with a splash of cranberry. I accidentally picked up tonic instead of club soda. But it ended up really good. This is a huckleberry vodka tonic with a splash of cranberry.
Other vodka things that rock the casbah: Absolut Los Angeles (acerola, acai, pomegranate, and blueberry) and extra dirty vodka martinis.
And keeping with the posting while drunk theme...I made vegan Bailey's Irish Cream. What the hell am I gonna do with all this? Suggestions?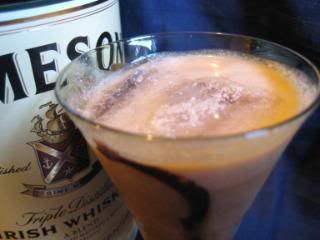 And I snapped a picture before I got buzzed. I swear I just take bad pictures. This was the first sip of the first drink.
Well, I have a gang of mofo entries to read. I haven't read anything since Monday.