I am loving raw much mo betta this time around. It's easier, and I can legitimately see myself making a lifestyle change. Like I said yesterday, it's been super hot over here. Thus, I've been craving light foods. Today I ate watermelon, a cabbage wrap filled with vegetables, caprese and strawberry melonade. That's right: strawberry melonade. It's strawberry-watermelon lemonade. It was highly refreshing, but something is missing. Off the top of my head, I think it would taste better with lime. I'll post the recipe once I tweak it.
I'm currently making enchiladas for the husband and trying this thing where I use soaked oat groats in place of brown rice for me. I saw the idea on livejournal the other day and quite like it. I've tried squash rice and I do not care for it at all. I also don't really like raw cauliflower so I have no desire to try that either. I'll post the results.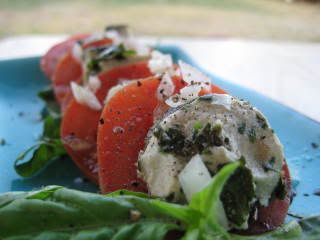 Until then, I'll leave you with a most delicious pic of the caprese I made. It's alternating roma tomato slices and the Raw Freedom Community's
herb cheeze
on a bed of basil chiffonade. I added a bit of minced onion, balsamic vinegar, olive oil and salt 'n' pepper to taste. It was so good that I may have done a happy dance!