It's Memorial Day weekend so I've allowed myself to eat more cooked foods. I was watching the Food Network last week and saw this episode of
Cooking for Real
that involved Jamaican food. Well, I got a super craving for the
Jerk Seitan and Coconut Rice in VWAV
.
First of all, I should probably say that I generally hate
Cooking for Real
and Sunny Anderson. Every time I watch her show, she mispronounces something. That's a huge pet peeve of mine. If you say jalapeno without pronouncing the enye, then you are dead to me! Dead, I say! But I did like that she had a completely vegan mango and avocado salad.
Plus, I threw in some fried platanos for good measure. That's "plantains" for all you people who don't know your Spanish. It was a good move.
I also made some cucumber juice. It's an incredibly refreshing drink made from English cucumbers. Though, I have to say that I thought it was a bit sweet. Even when I added ice. I will definitely cut back on the sugar, but it was delicious!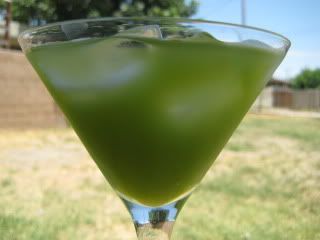 Mean Green Cucumber Juice
BY SUNNY ANDERSON (recipe originally found
here
)
2 English cucumbers
3/4 cup sugar
2 cups water
cheesecloth
Directions
Peel the cucumbers, saving the peels. Grate cucumber flesh on a box grater. In a medium saucepan, bring sugar and water to a boil. When sugar dissolves, add the grated cucumber and simmer until cucumber is tender, about 10 minutes. Remove from heat and let cool slightly.
In a blender, puree reserved cucumber peel and cucumber syrup until smooth. Line a strainer with cheese cloth over a bowl. Strain cucumber mixture. Gather cheesecloth in 1 hand to squeeze out all of the juice. Chill until cool, about 1 hour. Serve in glasses over ice.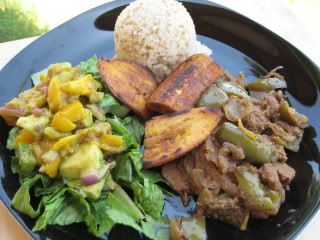 I guess grilling season is officially here! I really wish we hadn't left ours in San Antonio. Although, I saw this nifty thing today on how to turn a flower pot into a grill. Color me intrigued...