Is this thing on? I've been avoiding this blog out of sheer laziness for two months. It is such a pain to get photos off my camera because of this archaic laptop. Anyway. Since last I wrote, I have become mildly obsessed with nut cheezes. I'm trying to vary my diet because of a former soy dependence. Plus, making my own cheeze is so much cheaper it's pretty disturbing.
So I decided to make a raw muenster cheeze out of cashews. I consider it my own recipe, but it was adapted when I thought about combining the recipe for basic cashew cheeze from
The Raw Freedom Community
and the muenster recipe from
The Ultimate Uncheese Cookbook
. I tweaked a lot of things for what I consider a better flavor. The end result was a huge 3 cup block of cheezy greatness! Just a warning: this recipe is incredibly time consuming. It could take up to three or four days if you make your own rejuvelac.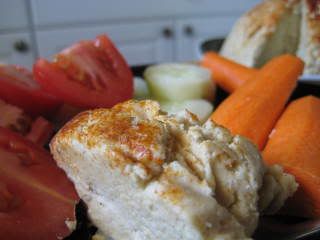 Raw Muenster Cheeze
3 cups raw cashews, soaked overnight (8-12 hours)
2 tbsp
rejuvelac
(or water)
Juice of 1 small lemon (about 2 tbsp)
3 acidophilus capsules (just the powder, discard the capsule part)*
¼ cup nutritional yeast
1 tbsp tahini
½ tsp onion powder
1 teaspoon salt
½ tsp dry mustard
¼ tsp garlic powder
¼ tsp ground caraway seeds
paprika
Drain and rinse soaked cashews. Blend in a food processor or high powered blender until fairly smooth, scraping down sides along the way. Add rejuvelac, lemon juice and acidophilus. Blend until smooth, then scrape into cheesecloth and place in a strainer positioned inside a bowl. If you do not have cheesecloth, I have used a fine mesh strainer and placed a paper towel over the nut mixture. It works fine. Let this sit overnight.
Add remaining ingredients and nut mixture into a food processor. Blend until everything is incorporated.
Take some plastic wrap and spray/brush with oil. Sprinkle with paprika and place the wrap in whatever mold you want. Carefully spoon the nut mixture into the mold and cover with wrap. Place in the fridge and wait several hours for it to firm up.
This is best if let to sit in the fridge uncovered for a few more hours, in order for the outside layer to harden and the flavors to meld.
Enjoy with raw crackers, tortilla chips, or whatever you like!
*Acidophilus can be found in a health store in the vitamin section. It is often used as a yogurt starter. You could also use a bit of miso instead.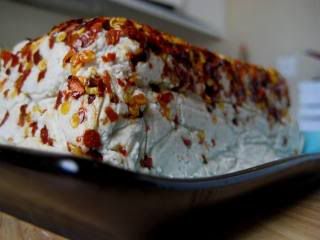 Above is a variation of Ani Phyo's raw
Black Pepper Cheeze
. I subbed in a cup of sunflower seeds, soaked them and the cashews, and added miso and tahini. I also covered it like her red pepper patty variation. Ultimately, I've decided I hate sunflower seeds in cheeze. Like...alot. But it looks pretty.