As
Scrubs
comes to an end, I find myself obsessed with the idea of brinner. For those of you unfamiliar with it, brinner is breakfast at dinner time. Turk once asked Carla to make it for their
anniversary
.
Because I like to walk on the wild side, I made this really delicious sweet potato hash and the pancakes from
Joy of Vegan Baking
. So good. The hash had white sweet potato, red pepper, onion and
Vegan Dad's
corned beef. So flippin good. I added some cinnamon to the pancakes and it was on! They were so fluffy and buttery. Me likey!
And, of course, it's just not brinner without a tasty bev-er-rahg. So I had some Kahlua and rice milk. Mmmm.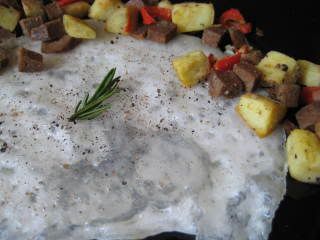 Lucky for me, there were leftovers this morning so I could take pictures! And...and...I made Torque's fried egg thingy, which can be found in this
PPK thread
. I used 1/4 cup tapioca starch, a little less than 1/4 cup water, and added black pepper on top with the other spices. Definitely a great way to start the day...or night!