It's December already! What the hell? November went by so friggin fast.
And now I present to you the ultimate in Thanksgiving leftover sammiches:
Take two pieces of bread. Slather cranberry sauce on one side and dijon mustard on the other. Place tofurky (or equivalent) on the side with mustard and stuffing/dressing on the side with cranberry. Top both sides with mashed potatoes and gravy. The key is to use minimal ingredients. And serve with pickled okra, which is my latest obsession.
I hope everybody's holiday went well. I spent mine with my husband and family. We did Thanksgiving at my parents. I brought pumpkin baked ziti, the newly revamped and veganized
Onion, Pepper, and Spinach Quiche Bites
from
Vegetarian Times
, and some cookies.
The quiche bites were a huge hit. I'm happy to say that the changes I made were most excellent in a Bill and Ted sorta way.
Quiche Bites
1 Tbsp olive oil
nonstick spray
2 Tbsp bread crumbs (I used Panko)
1 10oz pkg frozen spinach, thawed and squeezed of liquid
1/2 cup onion, finely diced
1/2 cup red bell pepper, finely diced
3/4 cup grated white cheddar Cheezly (or whatever cheeze you like)
1/2 cup blended silken tofu
1 tsp arrowroot powder
1/2 cup unsweetened almond milk
1/4 tsp salt
16 2 inch square crackers
Preheat oven to 350 degrees. Spray an 8x8 glass casserole dish with nonstick cooking spray and coat the bottom and 1/3 up the sides with the bread crumbs.
Heat olive oil in large skillet over medium high heat. Add onion and bell pepper, cooking until soft. Add the spinach and season with salt and pepper. Remove from heat and place in the casserole dish. Sprinkle with cheeze.
In a food processor or blender, add the silken tofu, arrowroot, almond milk and salt and blend until smooth. Pour the mixture over the veggies and cheeze. Be sure to smooth it down and let it soak into the casserole.
Bake 45 minutes to an hour, until the casserole is a golden brown color. Cool completely before slicing into 16 pieces. Serve warm or at room temperature.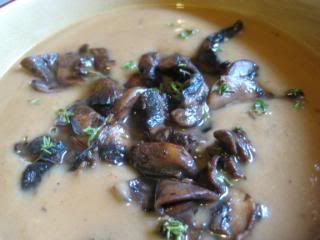 On Saturday, my husband and I had our own vegan Thanksgiving. I made a lot of recipes from the Nov 08
Vegetarian Times
. We had tofurkey, pumpkin cornbread stuffing (idea stolen from
Wes
and made from
Crystal
's cornbread recipe), roasted sweet potatoes, champ,
DEOTS
gravy with mushrooms added,
VT
's green beans with walnuts and shallot crisps,
VT
's classic chestnut soup with marsala mushrooms (pictured above),
VT
's cranberry-pecan salad (also pictured above), and the holiday cranberry sauce from
Vcon
. Twas delicious.
I also made the lemon bars from
Vcon
after I made a pie from
My Sweet Vegan
that turned out horribly for me. The lemon part of these bars would make fantastic jello shots. Just sayin'...
Perhaps my greatest discovery this week was white Russians made with soy nog. Thanks,
Pamela
! I also found Seagram's espresso vodka at the liquor store and it has changed my life. LOVE!
Happy Holidays y'all!