Okay, I've had this book for about a week now and I am in love. I've been cooking and baking and freezing all week. My two favorites are the
Puttanesca Scramble
and
East Coast Coffee Cake
(apricot and cardamom version). But everything in the book is so inspired it's amazing. I have not run into a recipe I didn't love. I finally posted a review on Amazon today: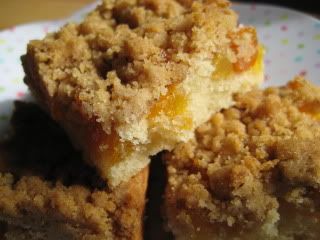 Vegan Brunch has changed the face of breakfast, lunch, brunch, and brinner for vegans everywhere. How many times have you been at a brunch picking over hashbrowns and fruit because those were the only vegan options? Well, fear no more! The most dreaded meal of the day has transformed into the most exciting.
With her latest book, Isa Chandra Moskowitz, upped her game completely. The book design is crisp and fresh with plenty of pictures throughout. Let's face it: we all eat with our eyes first. If just looking at this book doesn't have you salivating, then it's entirely possibly you are a cyborg incapable of human emotion. In fact, you might want to check yourself for a "shutdown" button.

All of the recipes are incredibly easy to read and many are as complicated as watching ingredients saute. There is a great balance between sweet and savory dishes with a range from normal brunch fare to international updates of classic dishes (such as the Samosa Mashed Potato Pancakes).
Recipes I highly recommend:

Tofu Omelet-It has an incredibly delicate texture with a well rounded flavor. The stuffing possibilities are endless; however, I highly recommend the roasted tomatoes, ricotta and basil variation.

Puttanesca Scramble-Eat this and pretend to be sitting in an Italian cafe. Tasty garlic, spicy crushed red pepper, fresh herbs,and piquant olives and capers blend together for an absolute explosion of flavor. All with your morning coffee.
Mushroom, Leek, and White Bean Pie-Ever wonder what Thanksgiving tastes like? Make this pie and get your answer. This is completely soy free (depending on your pie crust) and has an amazing depth of flavor from the mushrooms, thyme, and leeks.

East Coast Coffee Cake-This will change your life. The cake is super moist with an incredible crunch from the cinnamon and nutmeg topping. There are several variations, and I highly recommend the apricot cardamom version!

This book has and will continue to transform vegan cooking into a culinary force to be reckoned with. So order this thing already and get inspired! In fact, go ahead and make yourself a Bloody Moskowitz while you wait for those potatoes to roast.
Finally vegans have a food related reason to get up in the morning!